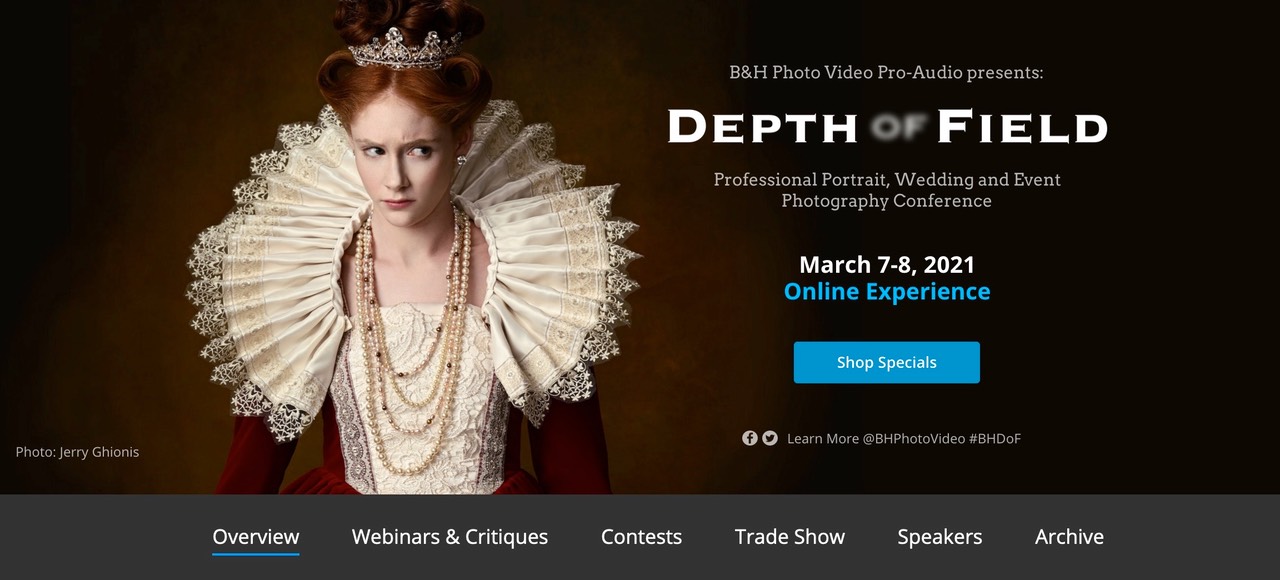 It's difficult to believe, but a full pandemic year has now passed and B&H is once again presenting its Depth of Field conference as a virtual experience. The conference starts mid-day today (March 7th) and runs through tomorrow evening.
Lest you forget, this is B&H's two days of learning tailed specifically for portrait, wedding, and event photography. Not only is there non-stop seminars/lectures to partake, but there are challenges, portfolio reviews, and even a virtual trade show featuring Canon, Fujifilm, Nikon, OM Digital Solutions, Panasonic, Sony, Sigma, Luxli, Wacom, Nanlight, Ruggard, Oben, Robus, Profoto, Westcott, Adobe, Microsoft, DJI, Nvidia, Generay, Tethertools, LaCie, Seagate, Lexar, ProGrade, SanDisk, Epson, Moab/Carson, LG, Viewsonic, Manfrotto, Dell, Asus, and Godox (also B&H). That trade show is a great place to ask brand or product specific questions, so make sure you take a look at trade show presenter schedule, too. 
I found two seminars I absolutely felt I needed to attend, plus a couple of trade show
As usual with a B&H conference, there's a 101 page PDF brochure full of product ads, presenter information, and special values only available during the show. There aren't as many camera and lens specials this year as usual—the supply chain issues are causing shortages—but I noted that the Nikon D500 has a US$100 savings on it, while the Sony A7R Mark IV is discounted US$510 (and the A9 US$1000 discount is back). You'll find most of the bigger savings in the accessories category (storage, cards, lighting, support, etc.). Definitely worth browsing the catalog to see if there's something you want to buy.
Oh, one thing some of you will want to buy is an annual license to the Adobe Photography Plan (US only). Sure, it's still US$120 (e.g. US$10/month), but it comes with a US$20 B&H gift card, which is one of the few ways I've seen this past year on saving on the photography plan. Note that many of the deals like this require that you use the BHDOF2021 coupon code.
The Depth of Field conference is completely free of charge.
Disclosure: B&H is the exclusive advertiser on byThom Web sites.